November - Sharing
Starting April 2021 and lasting for one year, each month the Scappoose Public Library will spotlight a new social-emotional skill for early learners. From empathy to responsibility to resiliency, we'll focus on some most important skills for your little one to practice. We'll have books to read together, activities for kids to explore, and information for parents. Thank you to the NW Early Learning Hub for a generous grant which will help fund this endeavor! November is about Sharing.
November is about Sharing

Books about Sharing
Bears on Chairs

by Shirley Parenteau

The Berenstain Bears Learn to Share

by Stan & Jan Berenstain

¿Debo Compartir Mi Helado?

by Mo Willems

¡Gracias, Omu!

by Oge Mora

Hot Pot Night!

by Vincent Chen

It's Great to Share

by Jordan Collins

Lia & Luís: Who Has More?

by Ana Crespo

Love Monster and the Last Chocolate

by Rachel Bright

Mine Mine Mine Yours

by Kimberly Gee

My Friend Ben Won't Share

by Charles Beyl

Playdate for Panda

by Michael Dahl

Rulers of the Playground

by Joseph Kuefler

The Sharey Godmother

by Samantha Berger

That's (Not) Mine

by Anna Kang

This Poop is Mine!

by Gusti

Thomas & Friends: Time to Share!

The Trouble with Penguins

by Rebecca Jordan-Glum

Warm Clothes for Bear

by Sam Loman

What is Given from the Heart

by Patricia C. McKissack

Will Bear Share?

by Hilary Leung
Activity: Paper Doll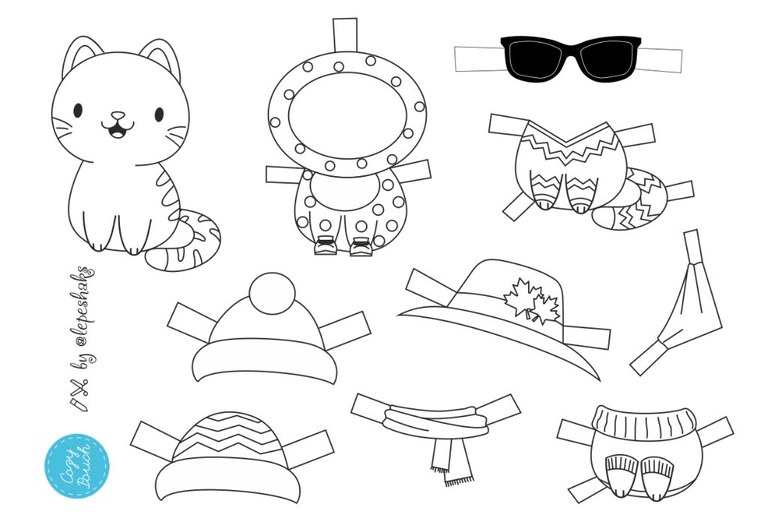 A printable PDF of the activity is available here.
Sharing is fun!  Color this cute little kitty and their clothes, cut them out and practice sharing with a friend.  Take turns dressing up the cat and acting out stories. The paper doll was created by Cozy Pouch.
Engage with your child about Sharing
Be a good role model by sharing with your child.

Invite them to share some of your favorite treat, offer to share a fun book with them or tell them you'd like to share half of the coziest blanket.

Tell them why you enjoy sharing with them.

When you see your child sharing be sure to acknowledge their success. Don't just tell them they are "being good", but use descriptive praise.

You might say something like "Did you see the smile on Jane's face when you let her play with your firetruck?

She really liked that!"

Set your child up for success. Before they have a playdate take some time to talk about which toys they are okay with sharing. If there are some toys they do not want to share, put those toys away. It's okay for your child to not want to share things that are special to them, the same way you have special items you wouldn't want to share.