June - Being Brave
Starting April 2021 and lasting for one year, each month the Scappoose Public Library will spotlight a new social-emotional skill for early learners. From empathy to responsibility to resiliency, we'll focus on some most important skills for your little one to practice. We'll have books to read together, activities for kids to explore, and information for parents. Thank you to the NW Early Learning Hub for a generous grant which will help fund this endeavor!
June is for Being Brave.

Books about Being Brave:
El Bosque de la Serenidad

by Susanna Isern

Breathe Deep, Little Sheep

by Jessica Lee

Courageous Lucy

by Paul Russell & Cara King

Doggie Gets Scared

by Leslie Patricelli

Kaia y las Abejas

by Maribeth Boelts

The Koala Who Could

by Rachel Bright

A Little Bit Brave

by Nicola Kinnear

The Little Book of Big What-Ifs by Renata Liwska

Little Monkey Calms Down

by Michael Dahl

Lottie & Walter

by Anna Walker

Me and My Fear

by Francesca Sanna

My Monster and Me

by Nadiya Hussain

Orion and the Dark

by Emma Yarlett

¿Qué te Preocupa?

by Molly Potter

Ruby Finds a Worry

by Tom Percival

Sloth Wasn't Sleepy

by Kate Messner

Way Past Worried

by Hallee Adelman

The Whatifs

by Emily Kilgore

The Worry Box

by Suzanne Chiew

Worrysaurus

by Rachel Bright
Activities: Rainbow Breathing and Courage Badges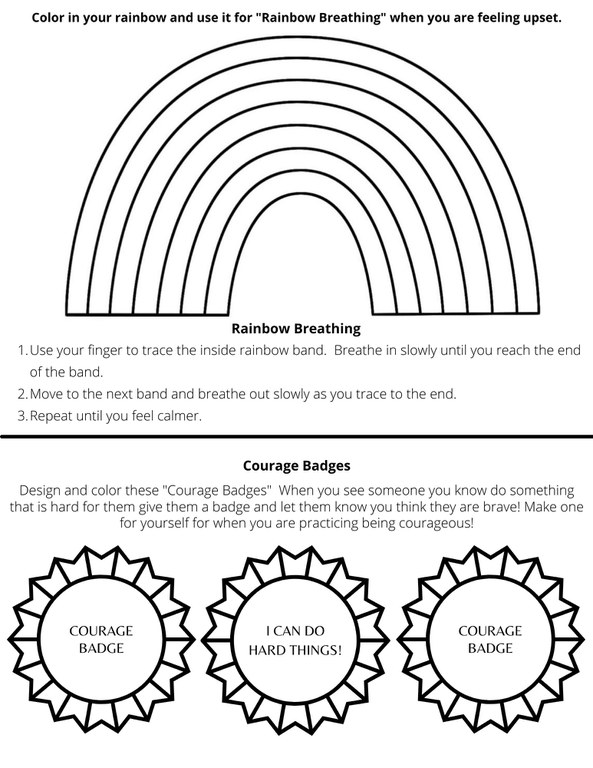 Engage with your child about Courage:
One of the best ways to encourage your child to be brave is to model courage in your own life.

Step out of your comfort zone, talk to your child about how you are feeling, and ask them to be your cheerleader while you take on a difficult task.

Although it may be tempting to dismiss your child's fear, it's important to acknowledge that it is a big deal to them.

Try saying something like "You feel nervous about meeting your new teammates" or "It seems like you are worried you won't do a good job".

Just knowing that you understand their feelings can help.

Let them know you are on their team and ready to support them.
Work with your child to find the best coping skills to use when they feel anxious.

Try things like

breathing exercises, meditation, writing their worries out, making a detailed plan, talking to a trusted friend or engaging in physical activities. Talk about what you do when you feel anxious, but remember that their coping skills might look different than yours.