August - Empathy and Kindness
Starting April 2021 and lasting for one year, each month the Scappoose Public Library will spotlight a new social-emotional skill for early learners. From empathy to responsibility to resiliency, we'll focus on some most important skills for your little one to practice. We'll have books to read together, activities for kids to explore, and information for parents. Thank you to the NW Early Learning Hub for a generous grant which will help fund this endeavor! August is about Empathy and Kindness.
August is about Empathy and Kindness

Let's read about Empathy and Kindness!
All Kinds of Kindness

by Judy Carey Nevin

Can I Wit With You?

by Sarah Jacoby

Feel Better Daddy

by Nancy Loewen

Adrian Simcox Does Not Have a Horse

by Marcy Campbell

A

Hat for Mrs. Goldman

by Michelle Edwards

I Like it When / Me Gusta Cuando

by Mary Murphy

I

Walk With Vanessa

by Keracoët

I'll Walk With You

by Carol Lynn Pearson

If

You Plant a Seed

by Kadir Nelson

Imagine a Wolf

by Lucky Platt

It Will Be Okay

by Lisa Katzenberger

Kindness Make us Strong

by Sophie Beer

Milo Imagines the World

by Matt de la Peña

My Friend is Sad

by Mo Willems

Put Yourself in My Shoes

by Susanna Isern

A

Small Kindness

by Stacy McAnulty

Superluminous

by Ian de Haes

This Way Charlie

by Caren Levis

We're

Different, We're the Same

by Bobbi Kates

When

Charley Met Emma

by Amy Webb
Activity: Kindness Jar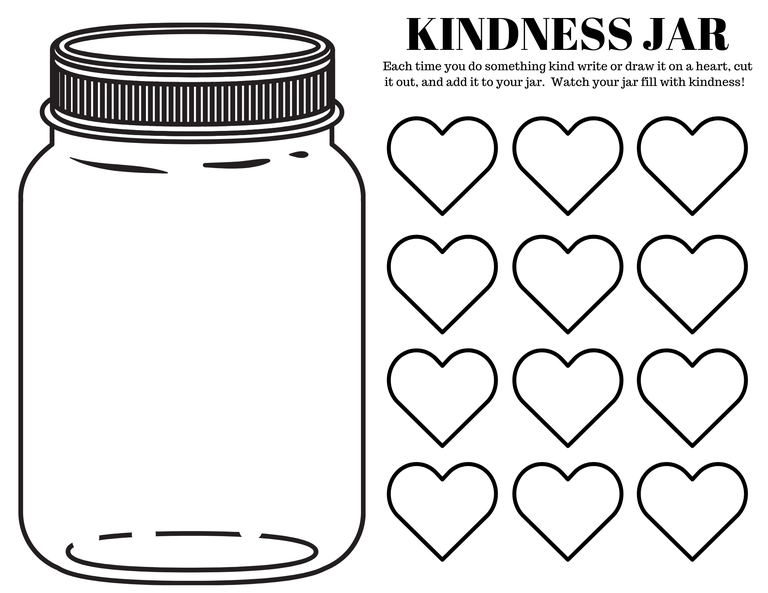 Come to the library to pick up this activity or click here for a high-quality image you can print at home!
Engage with your child about Kindness
When you come across characters in a book acting in a kind way, pause for a moment and talk to your child about a time you remember them doing something similar. Let them know you've noticed their kind actions.

Ask for your child's help when you are engaging in an act of kindness. Bringing cookies to your neighbor? Ask your child to pack them in a box or ring the doorbell. Share kindness together.
As your child gets older, be sure to share your own successes AND your failures. Tell them about a time you didn't show kindness and talk about how you would behave differently next time.