April - Being Yourself
Each month for the next year the Scappoose Public Library will spotlight a new social-emotional skill for early learners. From empathy to responsibility to resiliency, we'll focus on some most important skills for your little one to practice.  We'll have books to read together, activities for kids to explore, and information for parents. Thank you to the NW Early Learning Hub for a generous grant which will help fund this endeavor!
April's theme is about Being Yourself.

Because you are amazing just the way you are!
Books about Being Yourself:
Amazing Me! Soy Sorprendente! by Carol Thompson

Be Who You Are

by Todd Parr

Be You!

by Peter Reynolds

Bird Hugs

by Ged Adamson

Birds Of A Feather

by Sita Singh

Extraordinary Albert

by Bonnie Grubmam

A House For Every Bird

by Megan Maynor

Just Like Me

by Venessa Brantley-Newton

Laxmi's Mooch

by Shelly Anand

Me Gusta Como Soy / I Like Myself by Karen Beaumont
Not Yet A Yeti

by Lou Treleaven

Perfectly Norman

by Tom Percival

Rissy No Kissies

by Katey Howes

Solo Hay Uno Como Tu! Only You Can Be You! by Nathan Clarkson

Spoon

by Amy Krouse Rosenthal

Stand Tall Milly Lou Mellon

by Patty Lovell

Sugar And Snails

by Sarah Tsiang

Un Gran Corazon

by Linsey Davis

What if?

by Sarah Magsamen

We Are All Wonders

by R.J. Palacio

You Are Awesome!

by Susann Hoffmann
Activity - What Makes You Wonderful?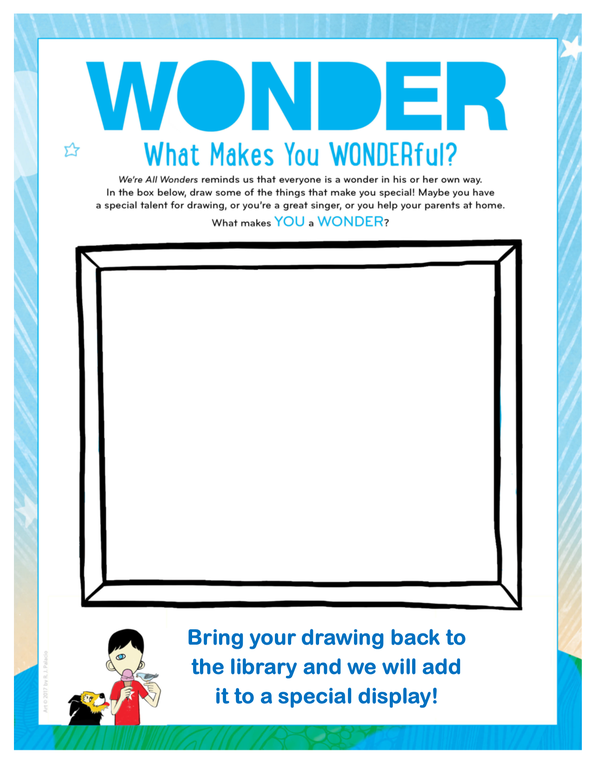 Engage with your child about being yourself.
Whenever you can, let your child make their own choices.

Would they like a blue shirt or a green shirt?

Which books would they like to check out at the library?

Making these choices will help them explore what they like and who they are!

Encourage your child to explore their interests. Is your child really into dinosaurs?

Help them pick out some dinosaur books at the library.

Do they love to draw?

Find some cool drawing videos to share with them.

Let them know you support and care about their interests.

Model positive self-talk.

Avoid comparing yourself to others.

If you are kind and nurturing to yourself, your child will see that and emulate your good behavior.